The shop is an interesting mix of Antiques and musical boxes, what will instantly get your attention is the quality of the items in the shop and that it's so nicely laid out you can find what you want and yet still find surprises if you delve.
Recently Steve finished filming in the shop for the BBC antiques programme series 6 of  'Put Your Money Where Your Mouth Is'.  John Cameron sold Steve a Tunbridge Ware paperweight !!
The shop has a wide and fine selection of traditional antiques including musical boxes, Tunbridge Ware, furniture, clocks, pottery and art glass.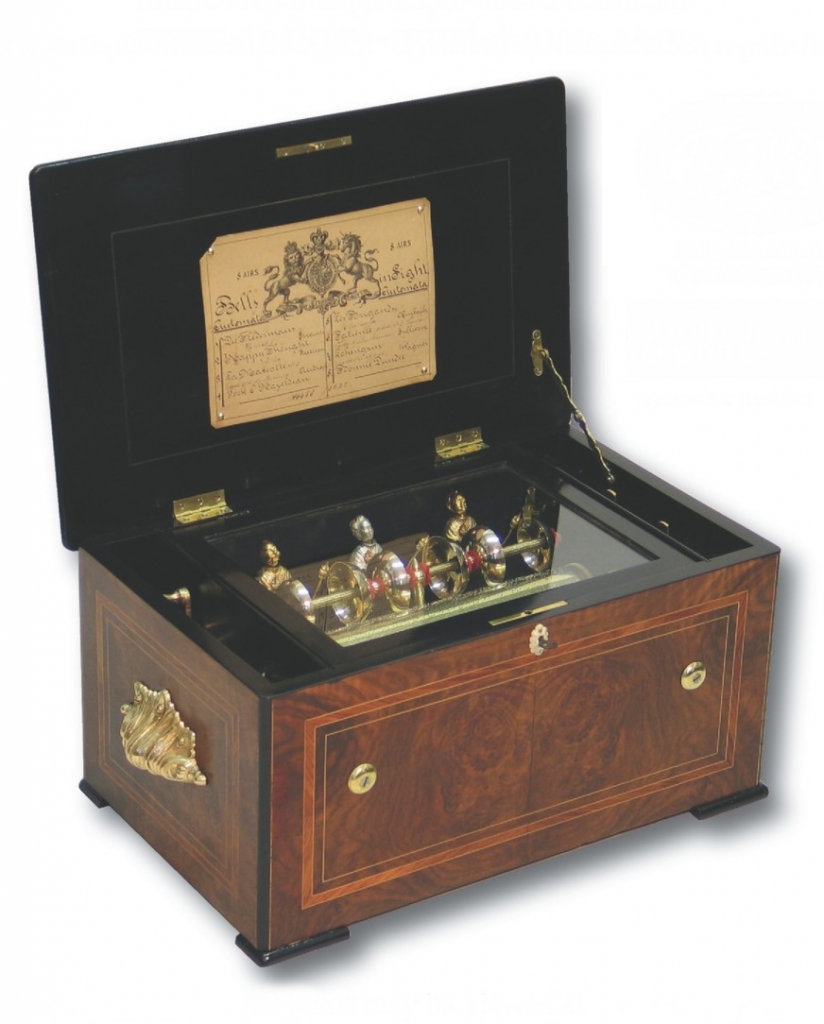 The Picture on the left is of a Swiss cylinder musical box c1885, walnut case with three automaton figures striking six bells. We have an extensive collection of similar pieces both at the shop in Rye and  on our  website
www.antiquesatramesliehouse.co.uk and http://antique-musicboxes.com www.antiquemusicalboxrepair.info
http://www.facebook.com/pages/Stephen-TP-Kember-Ltd-Antique-Musical-Box-Restorer/151340148252241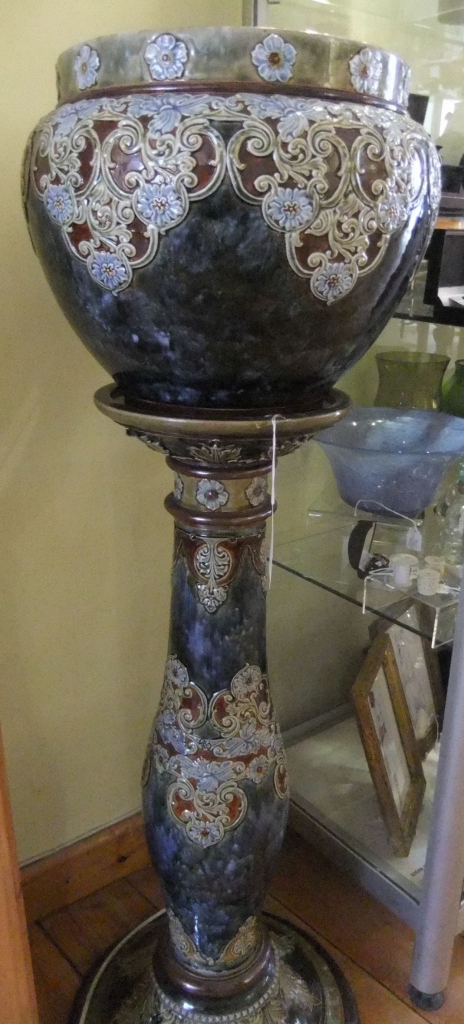 If you like Art Pottery, glass and Objects d'Art then Susan Derrick with delight you,  Susan has been buying and selling Art Pottery for 25 years.
A great interest and appreciation of the skills involved in British Art Pottery from 1880s to 1980s led her to collect, buy and sell some of the best pottery made in Britain.
This includes pieces by William and Walter Moorcroft, Doulton Lambeth, Royal Doulton, Minton, Ruslin, Poole, Charlotte Rhead, Elton and Brannam.
In addition to her interest in pottery she has been selling a selection of individual pieces of glass from the studios of Monart, Strathearn, John Walsh Walsh, Mdina, Nazing, Murano and Scandinavia
Pamela Goodwin has over thirty years experience in the Antiques trade, giving you confidence to buy, and is very happy to offer friendly non pressured guidance in your choice of items or she is willing to make a note of your requirements.
Her husband Guy Goodwin comes from a family of well known Cabinet Makers in Suffolk (Titchmarsh & Goodwin) from a boy he grew up learning his skills as a Cabinet and Clockcase Maker from Traditional Craftsmen, and combined with his ability in Horological Restoration we are able to offer our Stock in the very finest condition.
2 Rameslie House,
61 Cinque Port Street,
Rye,
TN31 7AN
Shop: 01797 225989
Home: 01223860724
Mobile: 07850 358067